I'm sick. I'm horribly sick. This is no ordinary headcold, I seem to have caught some kind of mutant crossbreed of SARS and birdflu. My gums and the roof of my mouth are all tender and I am so thirsty. I feel like I've eaten a bag of salt. My thought processes are slow and plodding. Normally being inside my head is quite exciting. Not quite as exciting as being inside, say, Bjork's head, but there's a few things going on at once normally. Now my synapses are not so much firing as smouldering gently when they collapse on top of each other in a wearied heap.
i have curled up in bed with this: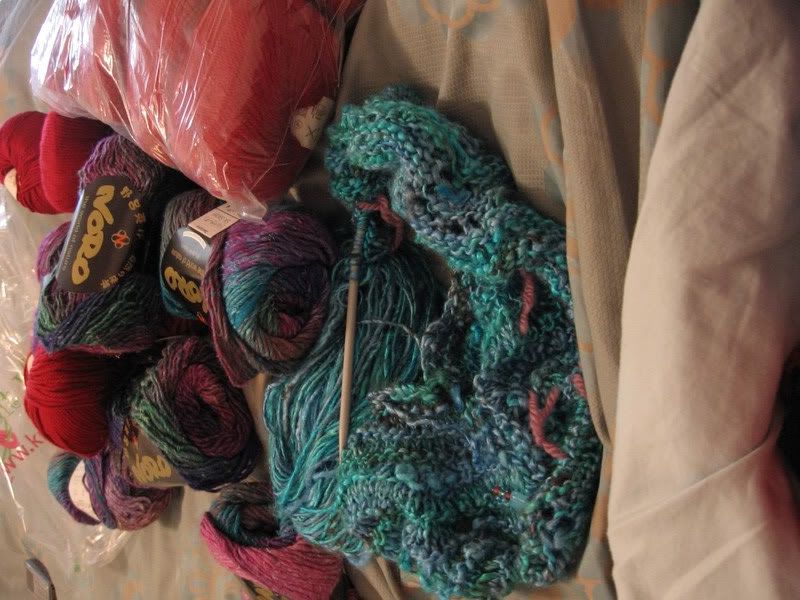 my legs are actually under all that. the cloud skein wonder and my knit happens order, which arrived today (awesome. it arrives on the one day that I'm too sick to care). the noro silk garden is very pretty. perhaps a bit too pretty for my tastes usually. I'm rethinking making
tithe
, and thinking (very slowly, oh, so slowly it hurts... *sneeze, sniffle*) about making, like, a cushion cover and striped jumper. Maybe. I'll make a final decision when my zombie self is replaced with my real self again. the cashmerino aran is going to become
this
. Or if gauge doesn't work out, maybe arwen's cardy, from interweave knits.
I was going to go on for a little longer, but even my lying-in-bed-typing strength is fading. so farewell. If I never post again you'll know I succumbed to the fever. Make sure I get a nice obituary in the paper. And mention how I died. It drives me crazy trying to guess that when I read other people's obituaries.