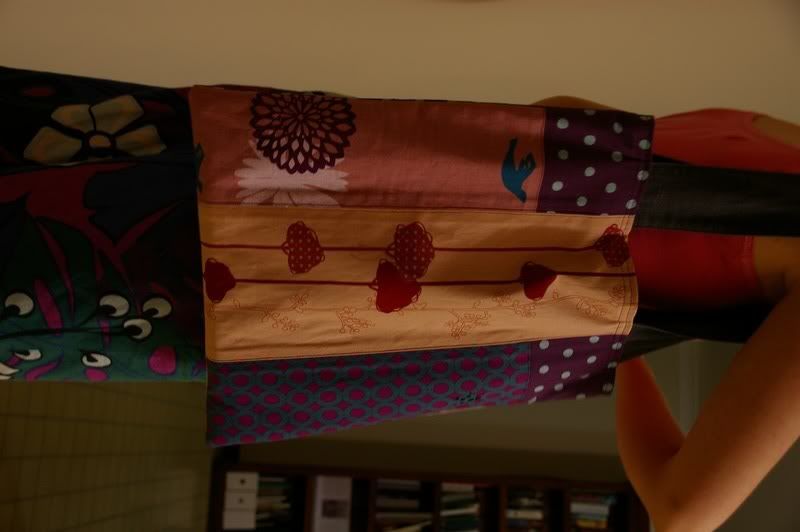 ta-da!
all finished! i did get the extra fat quarter from C&I. They don't normally sell single fat quarters, but the lady felt sorry for me, so pulled the quarter i needed out of a pack. so or
meshell
or
kita
, can one of you make a point of buying the set of three fat quarters when you head down there for some echino goodness?
here's a picture of the other side (BCB still having problems with exposure times on the camera).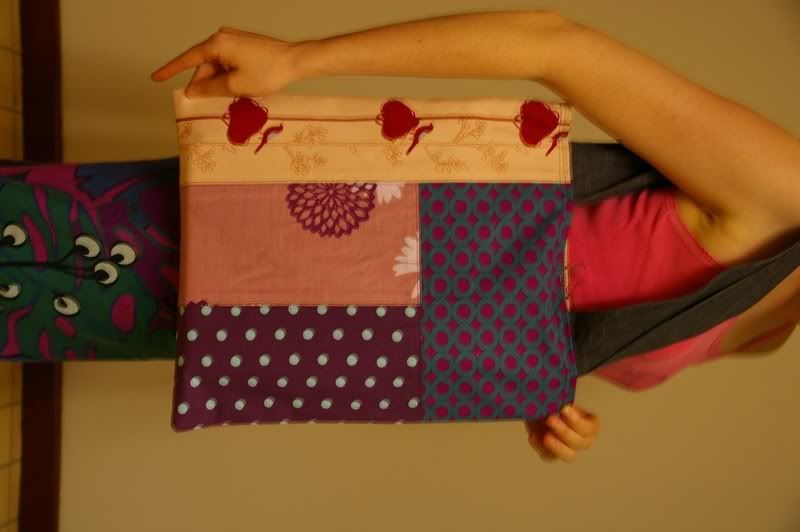 the straps are a dark denim-type fabric. they're the ties off a pair of pants i've had for years, and don't wear anymore because i don't like the ties. so i cut 'em off. they were covered in white topstitching which i had to unpick (and replaced with purple). it took a few hours to unpick it all, but, taking a metaphorical leaf out of ysolda's book i
downloaded and listened to
the first seven chapters of dickens' oliver twist.
it was such good fun. i enjoyed great expectations when i read it (for uni), but dickens works so much better aloud. which is how his work was intended to be enjoyed. his books were originally sold as serials, a chapter a week say, with the idea that everyone would gather round the family patriarch after dinner and listen to him read. in fact, its suggested that dickens didn't plan the entire plotline but rather made it up as he went along, deciding who lived and who died based on how popular certain characters were. just like a modern soapie. the convoluted sentence structure dickens uses is not so disorienting when heard, which means you 'get' the jokes more easily. i was laughing aloud. though, aloud you also notice the cheap sentimentality dickens employed more easily. i finally understand what my lecturers were on about. i wish i'd known about this site before i finished my arts degree.
most of the readers have strong american accents, but i got used to it. they were generally of very good quality. the only reader that took mildly irritating pauses and stumbled on the odd word also did the best character voices, so i forgave her.
the selection of stuff available is okay. i'd love to volunteer to read The Picture of Dorian Gray. or maybe get together with someone to do The Importance of Being Ernest. When i was sixteen i and a friend read Ernest entirely aloud in one go (assisted by a bottle of toffee flavoured liquer), splitting the cast between us on a haphazard basis, so it's certainly doable.
back to uni on monday though, so back to having no time at all.